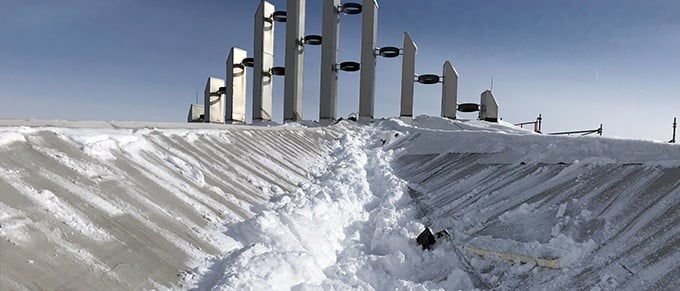 Some commercial roof replacements are fairly straightforward jobs. Then there are jobs that call for a special approach. Our work to replace the roof of the Regina Mundi Chapel at Sisters of Notre Dame Educational Center of Chardon fits that description. Roberts Roofing had replaced the chapel roof 30 years ago, and the sisters recognized it was time for a new one.
Imagine a roof that looks like a hand-held fan, or what some people call a clamshell. The roof of Notre Dame's chapel is a concrete panel supported by steel cables. The roof pitches from top down but also from the sides. In other words, there is no flat area for our crew to work on. Due to these severe angles, we hired a professional scaffolding company to provide
scaffolding around the structure, from 10 feet to as high as 60 feet.
The severe slope called for our crew to apply special adhesives to install the white single-ply PVC roof system, a time-consuming and labor-intensive process. It was very important to the sisters that the new roof replicated the original roof's architectural details without deviations of any kind. We made sure our sheet metal fabrication met with every one of those details.
Additionally, the chapel's extensive lightning rod systems had to be carefully maintained and properly reinstalled. With such a severely sloped roof, it is essential that specific electrical conduits and heated ice cabling are in good working order to manage the heavy snow that Chardon gets each winter.
Working around multiple angles and slope changes, the job took 60 days to complete. To accommodate the commercial roof work, we had built a temporary road for our equipment and crew, including our own telehandler and an 80-foot work platform. Once the job was completed, we provided landscaping to restore the grounds.
The new premium roof system is backed by a 25-year manufacturer's warranty. Working from various angles made this job both challenging and rewarding. The chapel should be in good shape for decades to come.
Roberts Roofing Company has been a leading provider of innovative commercial and industrial roofing solutions in Cleveland, Ohio since 1981. We provide commercial roof repair,
replacement and maintenance services to serve companies of all sizes in Ohio and the surrounding region, offering a combination of technical expertise, custom solutions and quality workmanship for every project.
To find out more about selecting a commercial and industrial roofing contractor in Cleveland, Ohio, simply fill out the form on this page and a member of our team will be in
touch. Or, you may call us at (440) 946-2233.