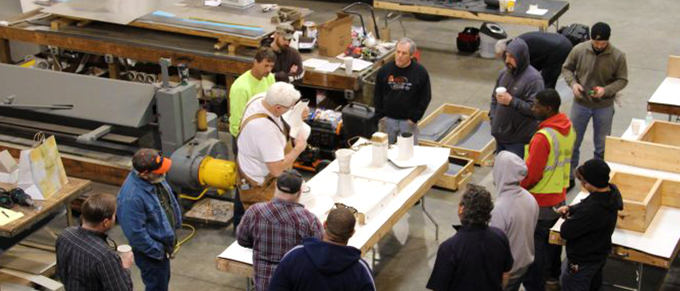 The most recent U.S. jobs reports shows a strengthening in the labor market and a declining jobless rate. At the same time, a severe lack of skilled labor is being felt across many industry sectors—a serious challenge demanding answers. The Federal Reserve notes that the labor shortage is particularly prevalent in the manufacturing, transportation and construction industries.
According to an annual U.S. Bank survey of small business owners, 60 percent of those surveyed say they are experiencing extreme or moderate difficulty in finding quality employees to expand their business. Specifically, small business owners are feeling frustrated as they struggle to hire and retain high-quality workers.
Skilled Labor Challenge
In the commercial roofing industry, labor shortages rank as a top concern for contractors. As experienced workers retire, who will fill the gap? While business in the industry is currently strong, the lack of skilled workers can affect a commercial roofing company's ability to accept jobs and complete them in a timely manner. Further, the industry relies heavily on the professional workmanship needed to complete an installation—workers must understand building codes, safety measures and the proper installation of materials like membranes, fasteners and flashing.
In addition to offering competitive salaries and comprehensive benefits, Roberts Roofing Company is proactively managing the issue by offering ongoing, leading-edge training to workers to teach new or improved skills. Our goal is to provide our commercial roofing clients with industry-leading roofing techniques while providing our employees with education and training on the latest installation techniques and safety.
Training Key to Quality Workers
Each week, Roberts Roofing holds company-wide, on-site "toolbox" meetings, where we continue our staff's education on the latest roofing techniques, materials, equipment and safety measures. Our seminars include safety standards and precautions as well as the proper execution in roofing system application.
For example, one of our training sessions includes the participation of the professionals at GAF Corporation, whose products are the most widely used and available of all major commercial roofing manufacturers. GAF technicians provide in-house demonstrations of the latest commercial roofing techniques and application procedures. By conducting these annual training sessions and consistently using proper execution in the installation phase, Roberts Roofing has been certified as MasterSelect by GAF.
We also conduct and provide all the latest tradesmen certification courses to our employees at our own cost. Examples include asbestos removal and handling, as well as how to operate industrial lift equipment like tow motors and scissor lifts.
In fact, our 35 fully trained roofing professionals hold virtually every certification that a project may require, from operating a crane to removing roofing that contains asbestos. Manufacturers of all the major roofing systems commend us for adhering to their updated installation specifications. We believe that our strong emphasis on roofing education and safety has been the key to our continued success.
Looking ahead, Roberts Roofing will remain dedicated to meeting the skills gap by continuing to offer employees all the training and support they need to be successful. In this way, our customers can continue to be confident that we are deploying the highest quality workers on their job sites. As a leading Northeast Ohio commercial and industrial roofing company, we are continuously evolving with today's cutting-edge commercial roofing practices.
Why Join the Roberts Roofing Team?
Roberts Roofing is a premier local Cleveland roofing contractor welcoming new and experienced, dependable, professional roofers, roofing foreman and roofing helpers. We are a family-run business and we highly value our employee family. Our benefits include:
• Long-term career opportunities
• Competitive pay
• Professional training
• 401(k)
• Profit sharing
• Quarterly bonuses based on attendance
• Paid holidays, sick days and vacation days
Roberts Roofing Company has been a leading provider of innovative commercial and industrial roofing solutions in Cleveland, Ohio since 1981. We provide commercial repair, replacement and maintenance to serve companies of all sizes in Ohio and the surrounding region, offering a combination of technical expertise, custom solutions and quality workmanship to every project.
To find out more about selecting a commercial roofer in Cleveland, Ohio, simply fill out the form on this page and a member of our team will be in touch. Or, you may call us at 440.946.2233.