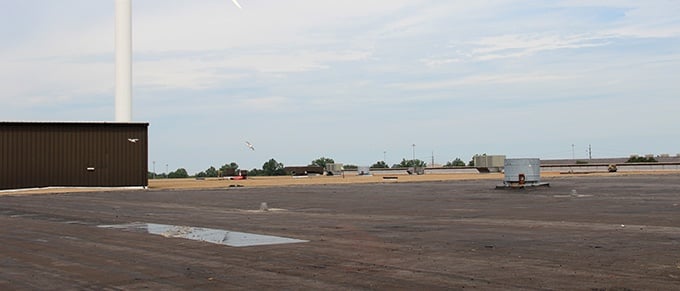 Cleveland-based Lincoln Electric is a global leader in arc welding and cutting solutions. The 1.6 million square-foot global headquarters of the 125-year-old company measures 1.6 million feet, which runs over a half-mile long, making the company the largest facility in the world dedicated to the manufacture of welding products.
The company also has two other locations, including a Euclid campus that is comprised of five buildings for a total of 2.85 million square feet, equivalent to approximately 10 city blocks. For the last 28 years, Roberts Roofing Company has been the company's commercial roofing contractor of choice for the reroofing of the entire Euclid facility.
Complete Tear-Off
The work has included a complete tear-off to the structural deck, which included the removal of a fair amount of obsolete mechanical equipment. The roof was replaced with a 20-year manufacturer-warranted tar and gravel built-up roof system. Specifically, we used a GAF four-ply premium fiberglass hot asphalt and gravel roof system.
Building Trust
Throughout the project, Roberts Roofing competed against other roofing contractors for the work. In nearly three decades of work, we never experienced a major incident, whether it be fire, flood or any other issues. There have been no issues with any of the roof sections with regard to leaks or other failures.
Meeting Challenges Head-On
Roberts Roofing has had no problem meeting the specific job requirements. Lincoln Electric has specific safety requirements, which our crew has followed to the letter. Since the company has three shifts, we have worked carefully around our customer's manufacturing, shipping and receiving and office schedules to avoid any disruption. The job requires one of our team members to be inside the building while we are working to ensure there is no debris or material coming through. We also use temporary tarping to protect the company's products and equipment.
The sheer size of the facility means that we needed to design a plan for set-up, getting materials to the worksite and removing debris from the work area—no small feat in a facility of this size. Put another way, it takes our crew 15 minutes to travel from the roof access point to the section being roofed.
Due to the travel distance from the staging area to the work area, power equipment that our crew could ride on was essential for removing debris and transporting material. Roberts Roofing has built temporary roadways on the roof, crossing over completed areas of the roof as well as old sections of the roof we have not yet completed. The staging areas are fairly large, so we set up cushioned temporary platforms and an elaborate perimeter safety railing
system.
Gaining Positive Results
Each year, Lincoln Electric has documented inspections of the completed roof by the material manufacturer's representative. In the 28 years Roberts Roofing has worked on this job, there has never been a need for special repairs. Working with a full crew, Roberts Roofing Company has completed each year's budgeted roof sections in approximately 90 days. We expect to have the entire facility completed over the next three years. Going forward, Roberts Roofing will continue to conduct annual inspections and maintenance to ensure Lincoln Electric will have a sound roof for many decades to come.
Roberts Roofing Company has been a leading provider of innovative commercial and industrial roofing solutions in Cleveland, Ohio since 1981. We provide commercial roof repair,
replacement and maintenance services to serve companies of all sizes in Ohio and the surrounding region, offering a combination of technical expertise, custom solutions and quality workmanship for every project.
To find out more about selecting a commercial and industrial roofing contractor in Cleveland, Ohio, simply fill out the form on this page and a member of our team will be in
touch. Or, you may call us at (440) 946-2233.