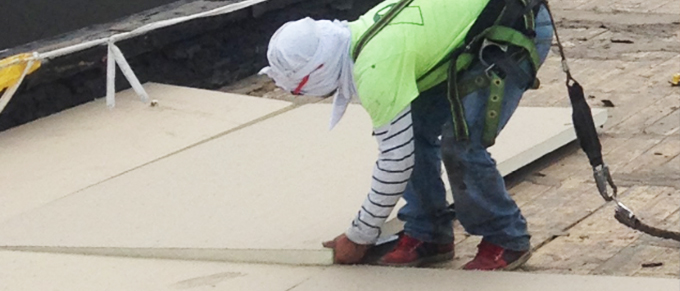 While the R-value of your flat roof may not be top-of-mind for commercial building owners, it can be useful to understand how it factors into the overall efficiency and cost savings of your building.
In a nutshell, R-value is a measure of how well an exposed area of your building resists the conductive flow of heat. For materials, it is often expressed in terms of R-value per unit length. The higher the R-value, the greater the insulating power and the more energy costs are reduced.
Background
R-values as we know them date back to 1975 when the American Society of Refrigeration and Air Conditioning Engineers (ASHRAE) published its first version of a model energy-efficiency standard for buildings (Standard 90). ASHRAE has continued to issue standards for developing energy-efficient buildings over the past two decades or so.
ASHRAE 90.1 applies to commercial buildings and provides minimum energy-efficient requirements for the design and construction, as well as a plan for operation and maintenance, of the following:
New buildings and their systems
New portions of buildings and their systems
New systems and equipment in existing buildings
New equipment or building systems specifically identified in the standard that are part of industrial or manufacturing processes
As ASHRAE continued to set standards, states and cities began to follow suit – allowing for climate zone differences – in setting standards by which building energy efficiency could be assessed and regulated.
Evolution of Commercial Building R-Values
Following an American National Standards Institute (ANSI) process, ASHRAE 90.1 was revised in 1989 and again in 1999. In 2008, ASHRAE changed its standards to achieve greater building efficiency for commercial buildings. By increasing the minimum thermal insulating value for all commercial and high-rise residential buildings by 33 percent from R-15 to R-20, building owners could save hearing and cooling costs for the life of their buildings, plus reduce dependence on foreign oil, which had become a significant issue at the time. What's more, owners could reduce energy usage and help preserve the environment.
The ASHRAE standard (90.1-2007) was added to the national model energy code (MEC), which is accepted by individual states either verbatim or with state-approved amendments. Each state is responsible for accepting, amending and enforcing the requirements of the MEC according to their climate zones.
New Ohio Standard for 2018: R-25
Most recently, there have been new changes to the minimum national R-value requirements for commercial roofing. In 2016, ASHRAE 90.1-2016 was published and includes updated requirements of which building and roof system designers should be aware. In June 2017, the Department of Energy (DOE) made a preliminary determination that the provisions of ASHRAE 90.1-2016 are about 8 percent more efficient than the previous version, and made a final determination on Feb. 27, 2018 citing an 8.2 percent total energy cost savings.
States will have two years to review ASHRAE 90.1-2016 and update their commercial building energy codes accordingly. In Ohio, the minimum insulation R-value requirements for non-residential, above-roof decks already changed to R-25, or 4.4" of Insulation applied to the roof decking. Note that R-25 applies for new construction and roof replacements.
The Ohio Board of Building Standards adopted new amendments on May 16, 2017, which state that any non-residential project submitted to a building department on or after Nov. 1, 2017 must comply with the 2012 ASHRAE 90.1-2010 with amendments.
The professionals at Roberts Roofing are available to discuss the best ways to achieve energy efficiency in commercial roofing materials.
Roberts Roofing Company has been a leading provider of innovative commercial and industrial roofing solutions in Cleveland, Ohio since 1981. We provide commercial repair, replacement and maintenance to serve companies of all sizes In Ohio and the surrounding region, offering a combination of technical expertise, custom solutions and quality workmanship to every project.
To find out more about selecting a commercial roofer in Cleveland, Ohio, simply fill out the form on this page and a member of our team will be in touch. Or, you may call us at 440.745.8578.