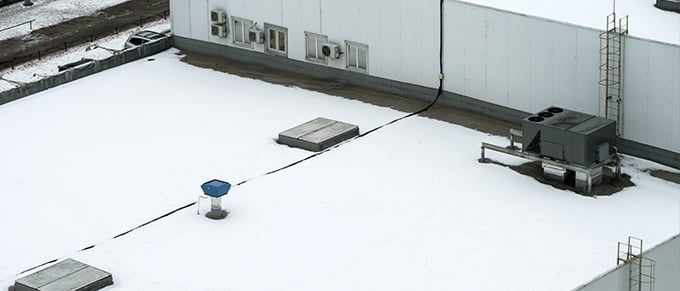 This past winter in Northeast Ohio was a difficult one, filled with frigid temperatures and major snowfall events. As a commercial building owner or facilities manager, you likely spent considerable effort during the winter months clearing snow and ice to provide safe access for your employees, customers and tenants. But with spring on the horizon, you should also consider what winter conditions may have done to the top of your building. Flat roofs are far more susceptible to damage from snow and ice because they don't have angles that would typically help to discard the melting snow.
Freeze/Thaw Cycle Problematic
Nothing can damage the integrity of your commercial roof more than the expansion and contraction that results from repeated freezing, thawing and refreezing. When snow melts on a flat roof it can pond. While some of that water will drain as intended and naturally evaporate, the rest can refreeze. Freeze/thaw cycles can cause damage to roofing materials when the water seeps into cracks and crevices. You also need to consider damage to HVAC units and other electrical systems—the costs to repair them can be considerable.
Weight of Snow
The weight of accumulated snow adds weight to your flat roof by bearing down on your deck. This action can force water underneath your roof structure, causing leaks inside the building. While it might take some time to detect, these leaks can cause significant damage both to the roof and within your commercial building.
So, how much snow is too much for your roof to bear? By some estimates, a cubic foot of snow weighs roughly eight pounds, but packed snow can weigh up to 20 pounds per cubic feet. When it comes to ice, that number jumps to 60 pounds. You can see why snow must be removed on a regular basis.
Throughout the winter, look for signs of damage including interior leaks and sagging that could indicate excessive snowfall on your roof. Without sounding alarmist, your entire roof could collapse if not suffer severe water damage. Remove snow as soon as possible.
You'll need to remove snow from your flat roof as soon as possible following severe weather. Pay attention to your doors—if interior doors are difficult to open, it could give you an indication about how heavy the snow is on your roof.
Your Qualified Professional Roofer Can Help
The best way to mitigate winter damage to your roof – or assess damage once it's occurred – is to have a professional commercial roofing contractor conduct a thorough inspection. With spring just ahead, a proper inspection can identify any issues that arose during the winter; prepare your flat roof for the hot summer temperatures; and proactively prepare your roof when next winter season's snow arrives.
Roberts Roofing Company performs year-round emergency commercial roof repair—even during or after inclement weather. Our professional crews are trained to repair all types of roofing systems and carry the proper materials and equipment to service your roof. Roberts Roofing has many clients who utilize our repair crews and have us inspect their roofs after severe storms or catastrophes, such as fire or other calamities.
To learn more about selecting a commercial roofer in Cleveland, Ohio, simply fill out the form on this page and a member of our team will be in touch. Or, you may call us at 440.946.2233.