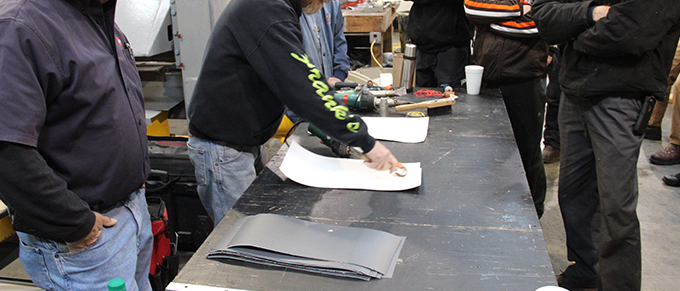 The application of commercial roof systems is an acquired skill, and like any craft, it must be honed. Many contractors can install a new commercial roof system, but only trained, certified professionals can do it correctly and secure the coveted manufacturers' warranties, which range from 15 to 35 years of complete coverage. Here at Roberts Roofing Company, we take training very seriously.
Every winter, Roberts Roofing dedicates time to training sessions and seminars. Our seminars include proper safety procedures, like ladder safety and fall protection, as well as the proper execution in roofing system application.
One of our training sessions includes the participation of the professionals at the GAF Corporation (http://www.gaf.com/About_GAF).
Every year, GAF sends several of their finest technicians and representatives directly to our company headquarters to provide in-house demonstrations of the latest commercial roofing techniques and application procedures. For example, they show our team how to properly hand weld single-ply seams using the latest technology. GAF representatives also explain the proper application pattern for sprayable adhesives on insulation board.
By conducting these annual training sessions and consistently using proper execution in the installation phase, Roberts Roofing has been certified as MasterSelect by GAF. Less than one percent of all the commercial roofing companies in the nation that apply GAF product achieve this certification.
Considering that GAF's roofing products are the most widely used and available of all the major commercial roofing manufacturers, this ranking shows just how dedicated to perfection we are as a company. It is through this high level of education and training that we can operate at such a high caliber each and every year.
What does this mean for our customers? It means that Roberts Roofing deploys the best possible contractors on our jobsites. As a leading Northeast Ohio commercial and industrial roofing company, we are constantly learning and evolving with today's cutting-edge commercial roofing practices.
Do you have questions about your commercial or industrial roof? We welcome you to download our free e-book, The Commercial Building Owner's Guide to Roof Replacement, to learn more.
Roberts Roofing Company has been a leading provider of innovative commercial and industrial roofing solutions in Cleveland, Ohio since 1981. We provide commercial repair, replacement and maintenance to serve companies of all sizes in Ohio and the surrounding region, offering a combination of technical expertise, custom solutions and quality workmanship to every project.
To find out more about selecting a commercial roofer in Cleveland, Ohio, simply fill out the form on this page and a member of our team will be in touch. Or, you may call us at 440.946.2233.