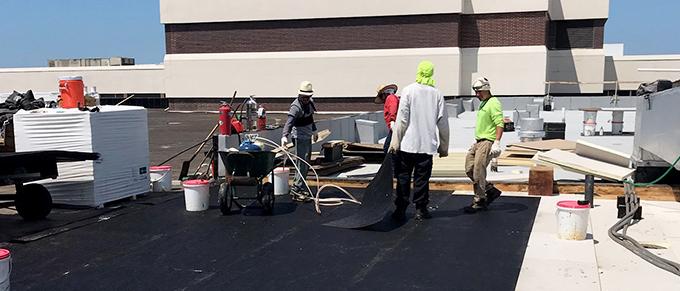 Given the needs of the population they serve, hospitals must depend on round-the-clock facility operations. Any interruption in the services they provide can put patient lives at risk. When the roof of a health care facility needs replacement, the job must be done by commercial roofers who have experience in working around the hospital's schedule and unusual specifications.
Such was the need at the University Hospitals Richmond Medical Center in Richmond Heights, Ohio. When Roberts Roofing Company was hired to replace the roof, we knew we would need to work around the hospital's schedule and be able to nimbly start up and shut down according to the staff's needs.
Two-Ply Roof System Features Redundant Layers for Longer Life
The hospital had an original lightweight poured gypsum deck, which we left intact as the structural deck. The original construction using gypsum is often used in "people" places because it is fire-resistant. The high-end specifications called for a two-ply roofing system consisting of a SOPREMA modified bitumen, torch-applied smooth base sheet over the original lightweight gypsum deck.
Once we had the deck in place, we installed a tapered insulation package over it, which is secured in a low-rise adhesive foam. Next, we installed SOPREMA Sopra board, an insulation board specifically designed by SOPREMA to accept the torch-modified base sheet, over the tapered polyisocyanurate insulate board in low-rise adhesive. Another SOPREMA modified bitumen, torch-applied base sheet was installed over the Sopra board.
To complete the job, we installed a white ceramic granule-surfaced modified bitumen torch-applied cap sheet. These unusual, comprehensive specifications called for redundant layers to ensure the roof system will last well beyond the warranty period—something commercial roofers don't see very often.
What to Look for in a Commercial Roofer for Complex Jobs
It's not unusual for hospitals to require a higher-quality roof system because they recognize that their facility is going to be in use indefinitely, and they want the roof system to perform much longer than the standard 20 years. These jobs require a roofing company with highly skilled applicators who are specially trained and experienced in installing this type of system.
Additionally, hospitals facility managers should expect educated and experienced estimators and supervisors to correctly bid, organize and execute the many complicated stages of a project similar to UH Richmond Medical Center.
To install these roof systems, Roberts Roofing has to have system-specific documented and certified training. The training is a significant investment that includes training and certifying 20 people. Specialized commercial roofing jobs such as these require specialized equipment, accurate, daily record-keeping and specific insurance requirements. You should expect no less from your commercial roofer for complex jobs for hospitals or similar facilities.
Roberts Roofing can help facility managers with complex commercial roofing jobs by meeting special specifications and being flexible by working around tight schedules. We have significant experience working in health settings and provide thorough, professional, reliable and high-quality roofing services. Our experienced professionals are happy to help any client assess their roofing needs, select a roofing system and get a project underway.
Roberts Roofing Company has been a leading provider of innovative commercial and industrial roofing solutions in Cleveland, Ohio since 1981. We provide commercial repair, replacement and maintenance to serve companies of all sizes in Ohio and the surrounding region, offering a combination of technical expertise, custom solutions and quality workmanship for every project.
To find out more about selecting a commercial roofer in Cleveland, Ohio, simply fill out the form on this page and a member of our team will be in touch. Or, you may call us at (440) 946-2233.