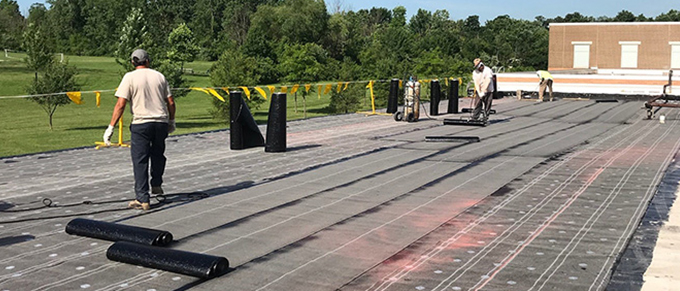 With everything else a business owner has to worry about, it's easy to understand how annual maintenance of their commercial roof can fall by the wayside. However, the failure to find and correct minor roof defects and deterioration in their earliest stages is the greatest cause of roof damage—damage that could necessitate roof replacement far earlier than normal.
Summer is a great time to make repairs to any problems you might be having on your commercial building. The same holds true for the flat roof that protects your business assets. Whether you are making repairs or need to replace part or all of your roof, now is a great time to implement a maintenance plan for the entire year. Let's take a look at some of the advantages of having a maintenance plan:
Costs: By having a plan in place, you will save money in the long term. If you buy a new furnace but never have it inspected, are you going to get the same life out of the furnace? If there is a problem that calls for a simple repair of one part of the furnace, think of the money that minor repair can save in the long run. The same holds true for your roof.
Time Commitment: The professionals at Roberts Roofing recommend two inspections per year—one in spring and one in the fall. Even one inspection is better than none at all. Careful maintenance will identify issues before they become major problems and add years to the life of your roof. And by conducting maintenance at regular intervals, you can rest assured that you are also protecting all of your valuable assets inside the building.
Convenience: A comprehensive maintenance contract can be combined with leak repair credit for an all-inclusive roof solution.
Protecting Your Investment: Whether you just had your roof replaced or are planning to do it in the near future, why put all that money into a large capital expense only to invite problems down the road? If you want to get the full value out of your roof, you need to maintain it. Similar to the warranties that come with the purchase of an automobile, manufacturer warranties for roofs require periodic maintenance with repairs to maintain that warranty. By staying on schedule, you'll increase the life-cycle performance of your roof.


Roberts Roofing Company strongly recommends yearly maintenance for your new commercial roof system as well as preventive maintenance for your existing commercial roof system. Once in the fall and once in the spring is a good rule of thumb, and remember, annual maintenance with inspection will prolong the life of your roof.
Why Have an Annual Commercial Maintenance Agreement?
Most commercial roofs are designed as 15, 20 and, in some cases, 30-year roofs. These designations should not be interpreted to mean that the roof will not require maintenance for the stated period. Roofs that are not maintained will, in all probability, require replacement at or before the end of the stated period, while those that are maintained properly can be expected to serve well beyond.
Regularly scheduled maintenance will catch any unexpected issues and address them immediately. Keep in mind that not all manufacturers' warranties for roof systems cover every issue that a maintenance check can uncover. Additionally, with an annual commercial roof maintenance agreement from your professional roofer, you will never have to worry about remembering to call for your inspections—it's our responsibility. We'll conveniently schedule the inspections ahead of time, always letting you know when the inspections will take place.
Roberts Roofing Company has been a leading provider of innovative commercial and industrial roofing solutions in Cleveland, Ohio, since 1981. We provide commercial repair, replacement and maintenance to serve companies of all sizes in Ohio and the surrounding region, offering a combination of technical expertise, custom solutions and quality workmanship for every project.
To find out more about selecting a commercial roofer in Cleveland, Ohio, simply fill out the form on this page and a member of our team will be in touch. Or, you may call us at 440.946.2233.