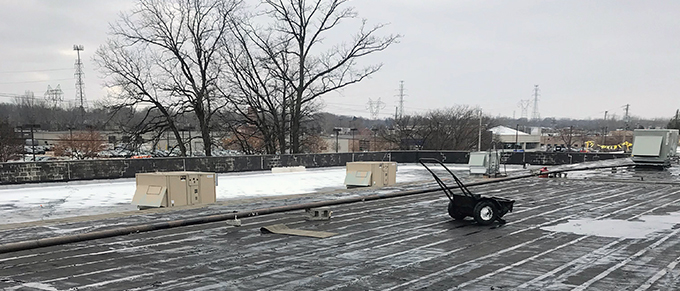 Now that snow is already falling in Northeast Ohio, you may be focused on keeping your commercial building warm and the walkways clear. You may not have your roof in mind—after all, you either had roofing professionals out to repair, replace or inspect your roof, or you plan to do so in the spring. But did you ever wonder what roofers do in the winter? I mean, you can't really do roof repairs…or can you?
1. Classroom Instruction
At Roberts Roofing, we strive to stay up to date on the latest roofing practices and safety standards. In the winter months, we continue our staff's education on the latest roofing techniques, materials, equipment and safety measures. We believe that our strong emphasis on roofing education and safety has been the key to our continued success.
2. Pricing Updates
Because most commercial roofing materials are petroleum-based, our pricing – just like fuel prices – fluctuates just as often. Winter is a good time to update pricing and forecast potential price fluctuations come springtime.
3. Certifications
Winter is a good opportunity for members of our team to attain certifications or become recertified. Our team follows all federal and state roofing guidelines and holds virtually every certification that a project may require, from operating a crane to removing roofing that contains asbestos. Be sure your commercial roofer has highly trained maintenance crews with up-to-date certifications to back up claims including but not limited to experience, equipment, installation record and financial stability.
4. Equipment Inspection
Winter is a great time to inventory roofing equipment for repairs or replacement. Every winter, we service all our current equipment and tools from the ground up. For example, it's a good time to make sure our asphalt kettles and single-ply heat welders are in tip-top working condition come spring.
5. Hire New Employees
Roberts Roofing doesn't stop looking for qualified people to add to our team. While we recruit all year long, winter is a good time to bring new people on board and provide them with the training they will need for the spring. Roberts Roofing is committed to providing commercial building owners with top-quality service from professionally trained commercial roofers with industry-leading roofing techniques.
6. Roof Repairs
Given that commercial roofs are flat, they are susceptible to snow and ice buildup, and that can cause problems. Our region's snowy, icy and windy conditions make repairs challenging, but on a decent day (there are a few!), we're able to make temporary repairs to get you through to spring. Manual snow removal and the use of temporary materials to stall a leak are ways to address winter roofing issues.
7. Budget Planning
Commercial building owners should start planning now for their spring roofing needs. When the winter weather subsides and the warmer spring months arrive, the snow melts and the rain comes. This tends to shine a spotlight on commercial roofing problems that may have cropped up over the winter. We can provide customers with budget numbers for jobs in the spring, so they can factor repair and replacement costs into their overall budget for the upcoming year. Once spring comes, we are able to provide actual estimates detailing the work that needs to be done.
8. Schedule Spring Inspections/Repairs
While spring is a time of renewal in Northeast Ohio, it can also be the time when commercial building owners notice signs of leaking due to freeze/thaw cycles. As the weather warms, it's a good idea to proactively seek the expertise of a qualified commercial roofer to look both inside and outside your building for signs of damage.
Roberts Roofing advises commercial building owners and facility managers to schedule an inspection during the winter months so we can get to work once the snow clears.
Roberts Roofing Company has been a leading provider of innovative commercial and industrial roofing solutions in Cleveland, Ohio since 1981. We provide commercial repair, replacement and maintenance to serve companies of all sizes in Ohio and the surrounding region, offering a combination of technical expertise, custom solutions and quality workmanship for every project.
To find out more about selecting a commercial roofer in Cleveland, Ohio, simply fill out the form on this page and a member of our team will be in touch. Or, you may call us at (440) 946-2233.