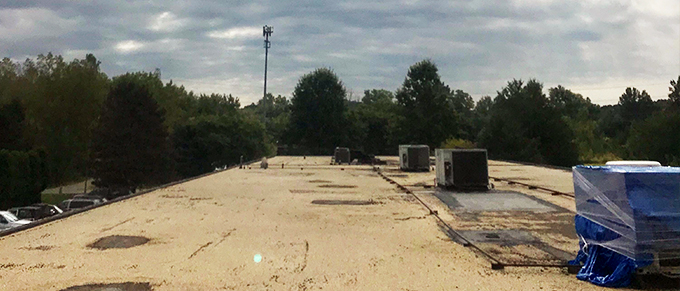 As Northeast Ohio prepares for another cold and rainy season, fall is the ideal time for commercial and industrial building owners to schedule a roof inspection. Roberts Roofing Company recommends two inspections per year. Why is fall an ideal time for an inspection?
Sun, wind, rain, hail and debris can cause all sorts of wear and tear. Extreme heat in the summer months can cause roofing material to expand and then contract during cooler temperatures in the fall. Any roof can incur drainage issues, damage from foot traffic and shifting of any rooftop units. The last thing you need is to have moisture compromising your insulation layer.
With everything else a business owner has to worry about, it's easy to understand how annual maintenance of their commercial roof can fall by the wayside. However, the failure to find and correct minor roof defects and deterioration in their earliest stages is the greatest cause of roof damage—damage that could necessitate roof replacement far earlier than normal.
Fortunately, there are steps you can take now to prevent costly problems in the winter months ahead. Turn to a skilled commercial roofing professional to examine your entire roof system, including all roof components, such as any rooftop units, seams, skylights and gutters. Specifically, compromised seams, punctures and corroded flashing can keep water from draining properly.
Our professional roofers will conduct a thorough inspection of your roof using our standard roof inspection checklist. That includes any unusual components your roof might include. You should expect a written summary report with photos of any problems we detect. Not only are the reports useful now, they are also essential if should you consider refinancing or selling your building, or for any roofing claims. Investing in a roof inspection today can prevent significant expenditures in the future. You will be able to:
Reduce leak occurrences
Reduce ownership costs
Extend roof life
Use savings to invest in other aspects of your operations
Regular roof inspections should be a priority for every building owner. Be sure to establish a schedule for routine inspections with a qualified professional commercial roofer.
Roberts Roofing is committed to helping commercial building owners and facility managers keep their roofs in top operating condition. From regular inspections to repair and replacement, we can provide guidance about the steps you can take to prolong the life of your flat roof.
Roberts Roofing Company has been a leading provider of innovative commercial and industrial roofing solutions in Cleveland, Ohio since 1981. We provide commercial repair, replacement and maintenance to serve companies of all sizes in Ohio and the surrounding region, offering a combination of technical expertise, custom solutions and quality workmanship for every project.
To find out more about selecting a commercial roofer in Cleveland, Ohio, simply fill out the form on this page and a member of our team will be in touch. Or, you may call us at (440) 946-2233.