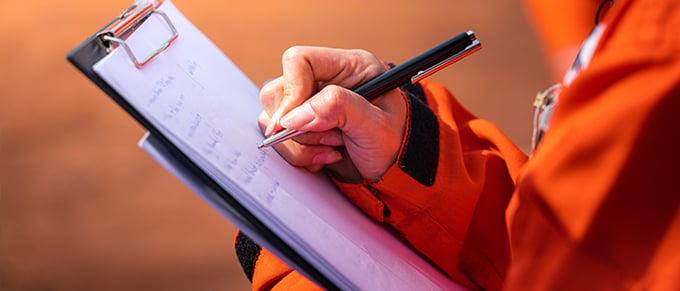 Inspections are vital to the health of a commercial or industrial building. Heating, plumbing,
mechanical and a host of other systems require periodic checkups in order to
run smoothly and so that potential issues can be brought to light.
As the crown of your building that protects everything beneath it, your commercial roofing system should top your list of necessary routine inspections. Furthermore, when it comes to commercial and industrial roofing in Cleveland, our extreme weather conditions call for inspections twice each year, in the spring and early fall.
What to Expect from a Commercial Roof Inspection
It's widely recommended that you enlist the services of a commercial roofing professional
to perform your roof inspection. A trained expert will know what to look for during an inspection and can spot small issues that may not seem significant to an inexperienced eye.
A commercial roof inspector can tailor an inspection to fit your needs, from a simple
walk-through with recommendations to a detailed survey with project specifications, costs and time-frames. The inspection should include documentation that records observations and provides supporting notes and photographs.
During a roof inspection, a commercial roofing professional will follow a process for inspecting the various features of your roof to look for any potential areas of concern. We recommend a checklist that includes the inspection of six key areas.
The 6-Point Checklist
1.) Roof Surface
An inspection starts by walking the roof. An inspector will note areas of concern where there is ponding water, debris build-up, discoloration or vegetation growth. Further inspection of the roof surface will look for damage such as tears, cracks, blisters or punctures that could lead to larger issues. An inspector may also note red flags such as excessive foot traffic or the storage of heavy objects.
2.) Flashing
Roof flashing is a thin material used to provide a seal against water in areas such as seams, joints, terminations and penetrations. It is usually made of rust-resistant metal and serves to direct water away from certain areas of the roof. An inspector will ensure that all flashing is effectively repelling water and will look for flashing that is loose or buckled or that has cracks, crevices or rust.
3.) Roof Edges
The edges of your commercial roof are exposed and particularly vulnerable to the elements. An inspector will look at edge materials to ensure they're secured down tightly and that there are no cracks, splits or materials that have blown loose.
4.) Terminations
Roof terminations are areas where the roof surface ends at a wall. Terminations should be inspected to ensure that they are properly sealed and free from any cracks or crevices. This is particularly important at parapet walls, which run along the edge of your roof making them exposed and vulnerable to damage.
5.) Penetrations
Penetrations are holes in the surface of the roof such as vents, stacks, skylights and HVAC units. An inspector will determine if penetrations were installed correctly and sealed properly. Penetrations should be checked to ensure that there are no gaps or cracks in the caulking or flashing, that stacks are capped, that there is no rusting metal and that any condensation from HVAC units is draining properly.
6.) Gutters and Downspouts
Gutters, downspouts and other drainage features serve to carry water away from your roof
and are therefore vital to its overall functioning. An inspector will look for any blockages from leaves, dirt or other debris that could cause ponding water or improper drainage. The seals on all drainage features should be checked for cracks or crevices, and any screens or straining features should be working properly.
A professional inspection of your roof can help you get ahead of any issues that could turn into major commercial roof repair or replacement costs. A maintenance contract that includes regular inspections by a professional commercial roofer, including necessary wear-and-tear repairs, can keep your roofing system healthy and extend its life so that you can focus on your business.
Roberts Roofing provides commercial roofing services to Cleveland, Ohio and the surrounding areas. We perform comprehensive commercial and industrial roofing system inspections, and our maintenance technicians are trained and experienced in investigating problems and repairing them according to a manufacturer's specifications.
To learn more about selecting a commercial or industrial roof repair or replacement professional in Cleveland, Ohio, simply fill out the form on this page and a member of our team will be in touch. Or, you may call us at 440-946-2233.