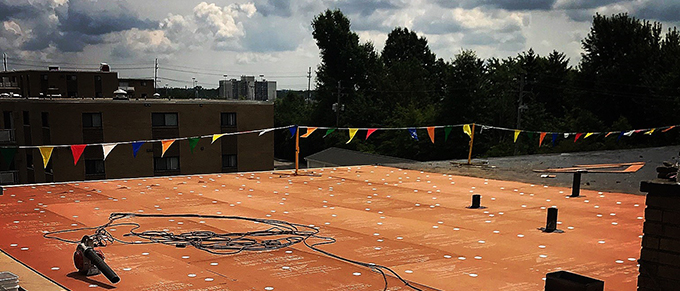 There is no question that commercial roof replacement is a significant capital cost for building owners. At the same time, the cost of multiple repairs can begin to mount. Sometimes your roof is just too damaged for repair, and it's time to invest in a new flat roof.
Once you decide to make the investment, it is helpful to understand the various factors that will affect commercial roof costs. The following 5 factors should be understood by building owners and managers before making a decision.
1) Roof Size
This one is a no-brainer, but we can't post a blog about roof replacement costs without mentioning size—it is the most significant factor affecting your costs. While larger square footage will cost more in terms of materials and labor, the overall square foot price may go down.
If you have had many other capital expenditures this year and can get by with a partial roof replacement for now, you'll need to weigh which option is more cost efficient in the long-run.
2) Extent of Damage
How widespread is your damage? Were repairs put off so long that there are other conditions that need to be addressed, such as mold or water damage? Does the damage rule out certain materials that could have been more economical? Keep in mind, if the majority of your roof is in sound shape with good insulation, it may be possible to get by with a repair. The general rule of thumb is that if 25 percent or more of your roof is damaged, it's more cost effective to replace the entire roof.
Just as you might look under the hood of a car to check things out, you should be aware of the conditions of the roof structure, its insulation and other materials to understand how they affect your roof replacement costs. Is there water damage? Your roofing contractor should be able to detect areas of trapped moisture that can affect your roof replacement quote.
Additionally, how many objects protrude from the roof? In addition to HVAC units, are there other areas that may add time to the cost of the job? For example, some manufacturing facilities have multiple rooftop exhaust fans and units.
3) Roofing Systems
Understand the costs associated with different roofing systems. In most cases, commercial roofs have single-ply systems (EPDM, PVC or TPO) or built-up roofing (BUR) systems. Modified bitumen is another option. Single-ply roofing, the most popular choice of commercial roofing systems, are clean to apply and perform well in deflecting sunlight. TPO, PVC and EDPM perform best where roof traffic is limited. Single-ply roofs, which are fairly simple to install, have proven to stand the test of time, often lasting 20 to 30 years, depending on surrounding conditions.
Asphalt-based BURs, which have been around for more than a century, are comprised of layers of modified or fiberglass rolls, which are set and covered in hot or cold asphalt and then capped with gravel or an additional asphalt-based granulated cap sheet. BUR roofs often exceed their warranty and can last up to 50 years.
It is difficult to go by cost alone in choosing your roofing system because you have to take into consideration what is best for your particular roof as well as life-cycle performance. Maintenance costs for the roof will vary depending on roof traffic and environmental factors.
When you need a new roof, the professionals at Roberts Roofing Company can help you make the best decision for your particular needs. By understanding the different types of commercial roofing systems, you will be better prepared to understand the benefits of each system.
4) Warranty cost and details
Most manufacturer warranties are separate costs that are built into the proposal or represented as an added cost to the work quoted, giving you the option to choose. It should be clearly spelled out in the proposal how the warranty is figured. Why is one system covered for 15 years when another is covered for 30 years? You must understand if the warranty is coming from the manufacturer or the contractor. Remember, a low-cost quote means nothing if there is no warranty to back up the work.
5) Contractor's Expertise
Watch that you don't choose the least expensive estimate without checking the credentials of your contractor. You'll pay much more money in the long-run for a job done poorly. You also want to check their service reputation. Does the contractor show up when they say they will? Are they skipping steps to save money or substituting a material for one you thought you were getting? This is where good references come into play. An experienced crew might cost a bit more, but if they are certified to do the work, there's a good chance your repairs will last longer because they are being performed by a highly trained commercial roofer.
One final note: Be sure your contractor specializes only in commercial roofing. Residential and commercial roofing are as different as night and day when it comes to materials and application techniques. Residential roofing companies do not have the ability to properly install a commercial roofing system that will remain watertight for a minimum of 20 years. The materials and equipment in use today, when installed properly, will easily surpass that expectation if the roofing contractor installing them has the requisite experience, training, resources and manufacturer support.
Roberts Roofing Company has been a leading provider of innovative commercial and industrial roofing solutions in Cleveland, Ohio since 1981. We provide commercial repair, replacement and maintenance to serve companies of all sizes in Ohio and the surrounding region, offering a combination of technical expertise, custom solutions and quality workmanship to every project.
To find out more about selecting a commercial roofer in Cleveland, Ohio, simply fill out the form on this page and a member of our team will be in touch. Or, you may call us at 440.946.2233.