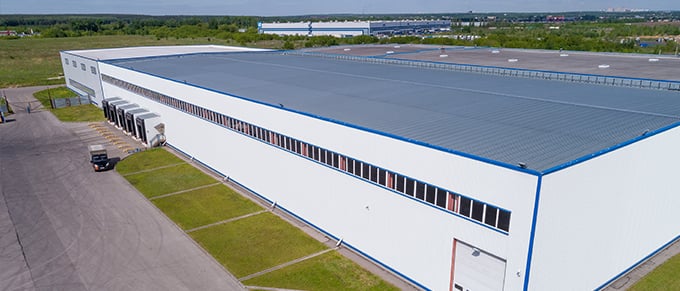 Ohio weather is no joke when it comes to warehouse roofs. With wind, rain, blazing hot summer heat, snow and ice in winter and years of freeze-thaw cycles, selecting the right material for your commercial building roof is extremely important. Protecting your building – and the contents inside – requires a good roofing system that is properly installed, maintained and repaired.
How do you know which roof is best for your industrial building or warehouse? Here are four of the best roofing systems for commercial buildings, and the pros and cons of each.
1. TPO (Thermoplastic Polyolefin)
TPO is becoming increasingly popular for industrial buildings due to its great performance and cost-effectiveness. This type of roof comes in varying thickness levels and includes layers bonded together in a strong, single-ply membrane. TPO roofs provide a surface that's resistant to moisture, corrosion, mold and algae, and can help with hitting energy efficiency goals. Roof damage from water leakage can occur if TPO isn't installed correctly and properly maintained through inspection, maintenance, and prompt repair, so working with a company that has experience in installing this type of roof is important.
2. Liquid-applied roofing
Liquid-applied or fluid membranes are applied as a liquid overlay coating which can be applied on a new roof or even over an old, defective roof to make it waterproof anew. The thicker it's applied, the longer it will last. This type of roofing requires specialized skill to apply it evenly, not just for aesthetic reasons, but for purposes of uniform protection. Because of the skill involved with application, it can be a higher-priced solution. Liquid-applied is also not known for providing the best insulation.
3. Metal
When installed correctly and properly maintained, metal roofs can have incredible longevity, lasting as long as 50 or even 100 years. Metals like zinc, aluminum and steel each have their positives and negatives. For example, zinc won't rust but can be quite expensive. Steel can corrode, but if sealed and coated properly can offer strength and weather resistance for decades. Consult with an experienced Northeast Ohio roofing professional to select the right type of metal roof for your warehouse.
4. Bitumen (BUR) and modified bitumen (MBR)
Bitumen or built-up roofing (BUR) is an asphalt roofing solution made from petroleum and known for its great waterproofing capabilities, durability, and longevity in harsh climates. This system includes layers of asphalt and ply sheets. With proper maintenance, BUR can last for decades, with similar longevity to a metal roof if there is proper roof drainage. MBR or modified bitumen is sort of the next generation in asphalt roofing, with multiple layers topped with reinforcing material and then a protective surface (such as gravel). They have a long lifespan, great protection and excellent durability.
Which Roofing System Do I Choose for My Warehouse/Industrial Building?
When you work with a trusted roofing partner like Roberts Roofing, you'll see that we want you to have the solution that offers the best protection for your budget. We sit down with you to discuss your costs, including maintenance and repairs over time, so that we can offer you the ideal roofing solution for your particular building. We are not a one-size-fits-all shop—every roofing system we implement is custom designed and chosen for that business based on a variety of factors and research.
With over 40 years of roofing experience in Northeast Ohio, companies across the region trust us to protect their warehouses, industrial buildings and other commercial buildings. Contact Roberts Roofing online to schedule an inspection or estimate, or call us at 440-946-2233.