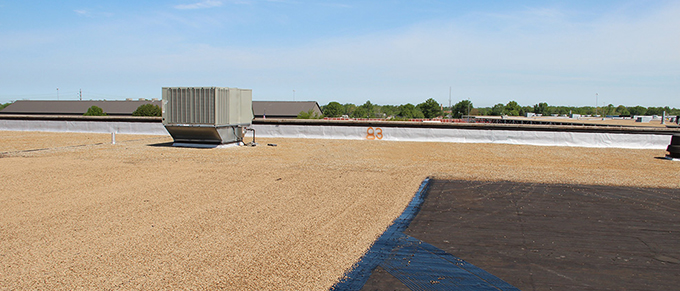 When you are experiencing problems with your commercial roof, repair and replacement are not your only options. Restoration offers many attractive benefits that will allow you to cost-effectively gain more life from your existing – and still sound – roof.
As we often write in these blogs, minor flat roof issues today can become major, expensive repairs when left unattended. Yet before you make the decision to undertake repairs or replace your entire roof, consider the following 10 benefits of roof restoration.
1.) Cost savings: Let's face it—roof replacement is a significant investment. The cost of labor and materials is substantial, so the decision to undertake a replacement is one that should be made after careful deliberation. While sometimes replacement is the best decision to make for long-term advantages, restoration – which requires less labor and materials – costs less than half of a total roof replacement. For example, depending on the roofing system selected, replacement costs between $18 and $22 per square foot, whereas restoration requires costs about $6 to $9 per square foot.
2.) Longer depreciation period: The federal government expects you to depreciate your roof over 39 years, so it is advantageous for you to extend the life of your commercial roof, as long as you don't anticipate numerous additional repairs in the near future.
3.) Tax benefits: Restorations are financed through maintenance rather than capital budgets, which is a strong tax advantage. As a maintenance expense, a roof restoration means you can immediately expense your costs. Further, depending on where you live, there could be more tax advantages in the form of tax credits and rebates available for energy-efficient improvements, such as ENERGY STAR® qualification and LEED point contribution.
For more on tax benefits associated with commercial roof restoration, read our blog, Keep Commercial Roof Repairs in Mind This Tax Season.
4.) Multiple options: There are numerous cost-effective restoration options available depending on your type of roofing system.
5.) Safety: With some commercial roofing systems, a roof restoration can upgrade your roof to a Class A fire rating. You'll not only enhance the safety of your building, you may also be able to lower your cost of insurance.
6.) Heat efficiency: Since some coatings are highly reflective, they can greatly increase solar reflectivity, which can significantly reduce interior coating costs—and help you achieve significant savings on your HVAC costs.
One example available from Roberts Roofing Company is the TPO (Thermoplastic Polyolefin) single-ply membrane system. TPO may be a relative newbie in roofing, but it's taking the market by storm. As a spiritual successor to PVC (polyvinyl chloride), it's a more refined, more modern version of PVC. It is installed in the same manner as a PVC roof, but is a bit more pliable and may not require as pristine a substrate. Read more about TPO, PVC and other single-ply commercial roofing systems here. From a heat efficiency standpoint, TPO roofs are white and highly reflective so they resist damage from the sun's UV rays, protect against solar heat gain and keep buildings cool.
7.) Less intrusive: Replacement can be noisy and disruptive. Restoration is typically less intrusive to the people working in your commercial building. An added bonus: Restoration is faster and cleaner.
8.) Additional warranty: Many restoration systems are warranted through the manufacturer for up to 10-15 years. Be sure to find out how many years your restoration would be covered.
9.) Think green: With restoration, there will be far less materials to dispose of. Additionally, you'll improve the sustainability of your building since you'll be reusing your existing roof.
10.) Peace of mind: When an experienced commercial roofing professional recommends restoration, you can rest assured that recommendation is the best course of action for your unique needs. An experienced roofer will conduct a thorough inspection, determine the condition of the insulation and find any areas of roof penetration as part of that assessment and recommendation.
Additionally, restoration options from Roberts Roofing will address additional roof problems you may be facing, such as:
Lack of surface protection from the elements and/or foot traffic
Cracked or splitting roof with little or no internal leakage to date
Aged roof which is no longer under warranty
Roberts Roofing Company has been a leading provider of innovative commercial and industrial roofing solutions in Cleveland, Ohio since 1981. We provide commercial roof repair, replacement and maintenance services to serve companies of all sizes in Ohio and the surrounding region, offering a combination of technical expertise, custom solutions and quality workmanship for every project.
To find out more about selecting a commercial and industrial roofing contractor in Cleveland, Ohio, simply fill out the form on this page and a member of our team will be in touch. Or, you may call us at (440) 946-2233.