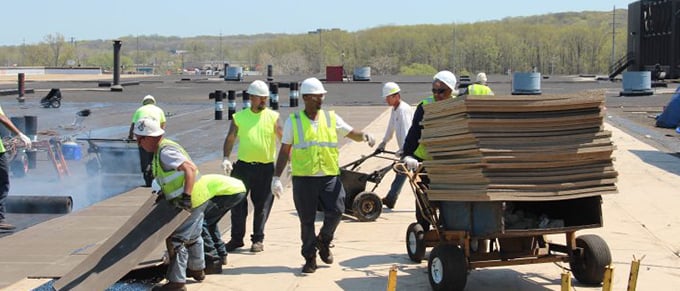 While every building owner hopes that their new roof will last for decades to come, external factors can sometimes cause damage over the lifetime of a flat roof. Problems also can surface when a flat commercial or industrial roof hasn't been properly maintained or when the wrong system was selected for that particular roof.
When problems occur, the commercial building owner and facilities manager often must weigh the pros and cons of commercial roof repair versus roof replacement. Other than cost, what are the most important issues to consider in making the right decision?
Here are four questions we ask our customers in guiding them toward the best solution:
What is the extent of damage?
Where is the damage and how does it affect the building's use?
Is the owner looking for a short-term fix or a long-term solution?
How much will the work interrupt business processes?

1.) Extent of Damage
Sometimes the damage on a commercial or industrial roof is limited to a particular area that can easily be repaired. If the majority of the roof is still in sound shape with good insulation, you may be able to get by with a repair. For example, on a built-up asphalt roof system, several torch-down patches may be sufficient enough to cure a serious leak without the hassle of replacement.
As long as the roof can be repaired, the owner will save money, avoid lengthier disruptions and will likely be able to extend the life of the roof. However, the general rule of thumb is that if 25% or more of the roof is damaged. It's more cost-efficient to replace the entire roof.
On the other hand, if the damage is severe (greater than 25%); the insulation is either wet or not performing; or if previous repairs have not held up, it likely makes sense to do a full replacement.
2.) Location of Damage
Is the damage located over an area of the building that is critical to business operations? Or, is it located over an expensive piece of manufacturing equipment? If you have previously repaired this area and continue to incur damages and business interruptions, you may need to consider a full replacement or, at the very least, a recover.
3.) Owner's Occupancy Outlook
If a building owner has plans to sell the property in the next two years and can reasonably repair the roof to meet code inspection, a routine maintenance procedure would be recommended. This would include the patching of minor leaks and proactively repairing anything that may be deemed a future liability. If the owner is looking for a long-term solution with the latest technologies, it makes more sense to replace the roof.
4.) Business Interruption
If a leak occurs during the busiest time of year for the business – for example, January through April for a CPA firm – the owner may decide to delay replacement by making the most essential repairs now and scheduling a full replacement at a time that causes the least amount of business disruption.
Other considerations: Recover and Coating

Recover
Don't rule out other options when it comes to addressing a damaged roof. When a commercial or industrial roof needs more than a repair but the insulation is still in good shape, the most effective solution may be a recover. This usually works best when the roof has only one membrane, and that membrane has reached its life expectancy. In that case, you can easily apply another roof system on top. A recover is less costly and less disruptive than a full replacement and new, extended warranties may be available.
Coating
When the commercial building owner simply wants to extend the life of the building roof, a cost-effective coating might make sense. In addition to extending the life of the roof, you will get leak protection and better heat protection that results in a more comfortable temperature inside the building. One additional benefit is that the building owner could potentially receive tax relief for the first year of the coating.
With many options to consider, you want to work with a qualified, experienced and innovative commercial roofing contractor that will walk you through each of these options. No two roofs are alike, so make sure you are not getting a one-solution-meets-all quote.
Roberts Roofing Company has been a leading provider of innovative commercial and industrial roofing solutions in Cleveland, Ohio since 1981. We provide commercial and industrial roof repair, replacement and maintenance to serve companies of all sizes In Ohio and the surrounding region, offering a combination of technical expertise, custom solutions and quality workmanship to every project.
To find out more about selecting a commercial or industrial roofing contractor in Cleveland, Ohio, simply fill out the form on this page and a member of our team will be in touch. Or, you may call us at 440.946.2233.