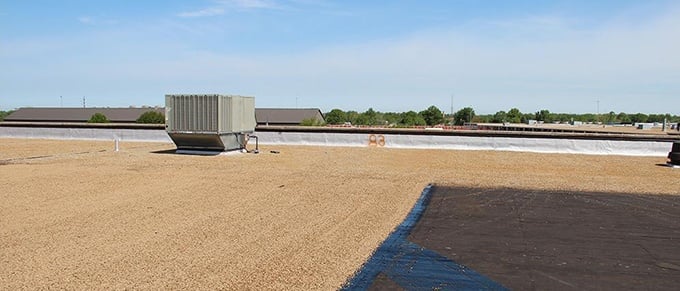 It is not unusual to find a gravel top coat on commercial or industrial roofing systems. Though primarily confined to built-up asphalt roofing systems, it can be applied to single-ply EPDM, rubber-based membranes as well. These small stones are worth more than their weight in the protection they offer for underlying roofing materials and the barrier they provide to external elements like ultraviolet rays and harsh weather elements. Both factors can extend the life of your flat commercial roof and delay repair or replacement.
Specifically, there are two main reasons to use a ballasted commercial roofing system:
The weight provided by the gravel is used to anchor down the roof materials, therefore using far fewer fasteners to hold the materials to the decking. The gravel can be applied in far less time than using a specially designed screw and plate fastening pattern.
The ballast is used to keep the roofing system cool and of out of the sun's harmful rays, thus keeping energy costs down. The gravel top coat is also extremely resilient to heavy foot traffic and high-wind scenarios.


Despite the positive qualities associated with a ballasted roof system, there are some challenges. It is very important to note that the amount of gravel being applied to a commercial roof must be precise—it depends on the specific roofing spec being used and the building type. Too much gravel can result in a structural issue due to weight. Generally, the weight for a gravel-coated roof must be within 10-25 pounds per square foot.
Finding a leak in a sea of gravel can be very difficult—even more difficult if the gravel has been set in a layer of hot asphalt. The fact that the gravel collects dirt and moisture can make repairing the leaks just as difficult once they have been located.
Though not as common as they used to be, ballasted roof systems still prove to be a viable solution for today's commercial roof needs.
Roberts Roofing Company has been a leading provider of innovative commercial and industrial roofing solutions in Cleveland, Ohio since 1981. We provide commercial and industrial roof repair, replacement and maintenance to serve companies of all sizes in Ohio and the surrounding region, offering a combination of technical expertise, custom solutions and quality workmanship to every project.
To learn more about selecting a commercial or industrial roofing contractor in Cleveland, Ohio, simply fill out the form on this page and a member of our team will be in touch. Or, you may call us at 440.946.2233.