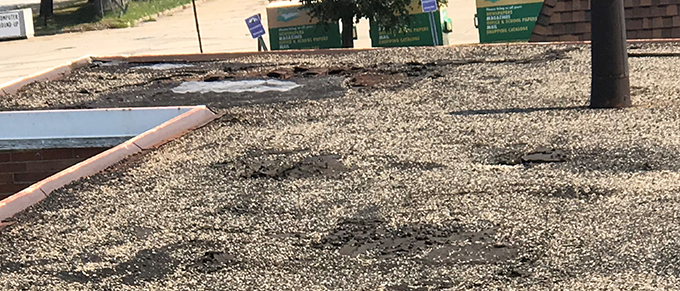 Commercial and industrial roofs are built to last anywhere from 15 to 30 years. So why bother with a roof maintenance agreement? Let's say you buy a car that should last at least 10 years or 100,000 miles. If you never change the oil or schedule maintenance according to your owner's manual, would you still expect your car to live its full life expectancy?
It's really not that different when considering the life of a commercial or industrial roof. Much like car engines, roofing systems are under constant duress, with exposure to blazing sunlight and copious amounts of rain and snow.
Here are 3 things to know about commercial roof maintenance agreements.
1) Let Your Roof Live Its Full Life
Your roof's lifespan depends on having professional maintenance performed at regular intervals to ensure it will function the way it is meant to. The flip side? If you don't have a maintenance agreement in place, your roof will likely need to be replaced years before its expected lifespan. With regularly scheduled maintenance, your commercial roofer will catch any unexpected issues and address them immediately.
2) Maintenance Agreements Are Not the Same as Warranties
Every roof system should be protected by a maintenance contract because manufacturers' warranties do not always cover every roof issue that may arise. For example, roofing system warranties do not offer protection for factors that result in interior leaking, though a comprehensive maintenance contract can be combined with leak repair credit for an all-inclusive roof solution. In fact, frequent roof maintenance helps ensure that a warranty remains intact.
3) It's All on Us
When you have a commercial roof maintenance agreement from Roberts Roofing, you don't have to worry about calling to schedule an inspection—it's on us. We'll schedule the inspections ahead of time, always at your convenience. Regularly scheduled maintenance will catch any unexpected issues and address them immediately. Your agreement should clearly define the frequency and the degree to which your roof will be inspected, and the timeline for getting any needed repairs done.
Careful maintenance will identify issues before they become major problems and add years to the life of your roof by as much as 50 percent. And by conducting maintenance at regular intervals, you can rest assured that you are also protecting all of your valuable assets inside the building.
Roberts Roofing Company has been a leading provider of innovative commercial and industrial roofing solutions in Cleveland, Ohio since 1981. We provide commercial repair, replacement and maintenance to serve companies of all sizes in Ohio and the surrounding region, offering a combination of technical expertise, custom solutions and quality workmanship for every project.
To find out more about selecting a commercial roofer in Cleveland, Ohio, simply fill out the form on this page and a member of our team will be in touch. Or, you may call us at (440) 946-2233.