FREE E-BOOK
The Commercial Building Owner's Guide to Roof Replacement
As a commercial building owner, or the facility manager working closely with a building owner, you want to get the longest possible life from your roof. After all, it's one of your most expensive investments. While you are busy running a profitable business, it's all too easy to forget about the roof that is protecting your operations and employees.
That's why Roberts Roofing is making this guide available to commercial and industrial building owners. The Commercial Building Owner's Guide to Roof Replacement will provide you with the guidance you need to get the longest and most productive life out of your new roof.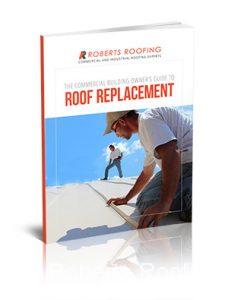 Our six chapters include:
Chapter 1 – Do I Need to Replace My Commercial Roof?
Chapter 2 – How Do I Hire the Right Commercial Roofer?
Chapter 3 – Which Commercial Roofing System Should I Select?
Chapter 4 – Understanding Commercial Roof Warranties
Chapter 5 – Inspecting and Maintaining Your Flat Roof
Chapter 6 – Factors Affecting the Life Cycle of Your Commercial Roof
Please fill out our form on the right to receive our complimentary guide that can help you realize cost-savings and greater longevity for your commercial building.