FREE E-BOOK
The Commercial Building Owner's Guide to Roof Repair and Maintenance
With everything else a business owner has to worry about, it's easy to understand how annual maintenance of their commercial roof can fall by the wayside. However, the failure to find and correct minor roof defects and deterioration in their earliest stages is the greatest cause of roof damage—damage that could necessitate roof replacement far earlier than normal.
That's why Roberts Roofing is making this guide available to commercial and industrial building owners. The Building Owner's Guide to Roof Repair and Maintenance will help you understand what to expect from your professional roofing contractors when it comes to repairs and maintenance, and also to recognize early signs of damage.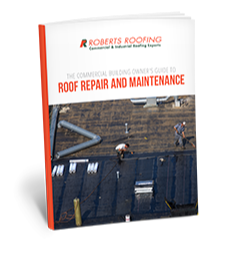 Our six chapters include:
Chapter 1 – Does My New Commercial Roof Need Maintenance?
Chapter 2 – Warning Signs of Commercial Roof Damage
Chapter 3 – What Should I Expect During Commercial Roof Maintenance?
Chapter 4 – Maintenance Agreements versus Roof Warranties: Which Offers Greater Protection?
Chapter 5 – Managing Your Roof During Cold Weather Season
Chapter 6 – How to Prolong the Life of Your Commercial Roof
Please fill out our form on the right to receive our complimentary guide that can help you realize cost-savings and greater longevity for your commercial building.